Nine-story, 146K sf development targeting medical, nonprofit and community service tenants
May 02, 2016 10:10AM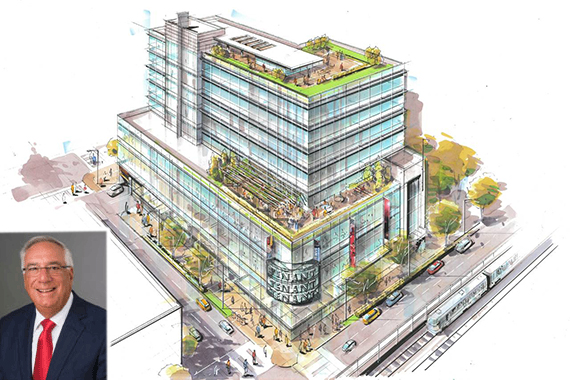 Rendering of 38-01 Queens Boulevard (credit: SBLM Architects) (inset: Aaron Malinsky)
Developers Curbcut Urban Partners and Platinum Realty Associates are partnering on a new nine-story, mixed-use building on the border of Long Island City and Sunnyside in Queens.
The 146,000-square-foot, glass-and steel building at 38-01 Queens Boulevard will target medical, nonprofit and community service tenants that are increasingly looking to the outer boroughs in search of affordable office space.
While the property will house general office and retail space, zoning rules require a significant portion of the property be used for community services, according to the Wall Street Journal. Units will also be available to purchase as commercial condominiums.
The building will feature multiple, separate lobbies, entrances and elevators to appeal to a varied tenant base, according to Curbcut CEO Aaron Malinsky, and will also have a rooftop deck and outdoor terraces.
Cushman & Wakefield is leasing the property on behalf of the developers, who are spending more than $65 million on the project. [WSJ] – Rey Mashayekhi