About
Grand Openings. Great Neighborhoods.
Curbcut Urban Partners is a privately owned, entrepreneurial real estate development firm with one vision. We seek to acquire overlooked, under-utilized urban sites that we see have potential for greater value and enhance those sites by creating retail and office experiences that draw people and businesses and support the economic growth of the local community. We leverage over 40 years of experience in urban real estate development in the boroughs of the City of New York to successfully take each project from site selection and design, to groundbreaking, to grand opening, to being a focal point in creating a great neighborhood.
We start by diligently scouting locations and identifying sites with untapped market potential. Then we assemble highly skilled project management and design teams focused on optimizing the use of space and site accessibility to create transit-oriented and pedestrian-friendly environments that minimize traffic congestion. We ensure 21st century experiences for tenants and visitors are incorporated into building design, from cutting-edge technologies to the U.S. Green Building Council's sustainable building guidelines to achieve LEED certification. We are also committed to partnering with Minority and Women Owned Business Enterprises and NYC's Workforce 1 to promote local labor sourcing. Finally, we seek the right mix of local and national merchants and businesses to provide jobs and enhance the neighborhood's vitality.
Meet the Team
Aaron Malinsky  Carolyn Malinsky  Benjamin Malinsky
Aaron Malinsky
President and CEO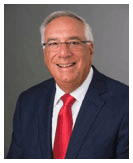 Aaron Malinsky is a principal partner of Curbcut Urban Partners, a real estate development company specializing in the acquisition and development of retail and complex mixed-use projects in Metropolitan New York and New Jersey. He specializes in recognizing the intrinsic value of real estate and developing creative strategies to acquire, design, construct and manage each project to completion. Mr. Malinsky has been a senior business executive and real estate investor and developer for more than thirty years. His successes include the development of over 100 shopping centers throughout the metropolitan New York region, as well as a variety of residential and industrial projects. To date, his development experience spans over 21 million square feet of retail space, over 4.75 million square feet of industrial distribution space, and over 300,000 square feet of office space.
Carolyn Malinsky
Vice President
Carolyn Malinsky's principal focus is the day-to-day management of Curbcut Urban Partners.  Carolyn plays a role in all phases of project development, including coordinating the land-use approval process, pre-development, construction and leasing. She acts as liaison with architects, engineers, legal counsel and leasing brokers to ensure information is appropriately communicated. Carolyn also supervises the practice of minority, women and local business hiring during all phases of development, and she directs the company's marketing and public relations efforts.
Benjamin Malinsky
Vice President
Benjamin Malinsky has been actively involved in the pre-development and development of multiple real estate projects over the past eight years. Ben has extensive experience dealing with the complexities of public-private development projects, having spent the past seven years working on the development of the George Washington Bridge Bus Station in Northern Manhattan in partnership with the Port Authority of New York/New Jersey. Ben acts as a conduit between the developer and city and state agencies. He coordinates activities amongst a variety of professional consultants, as well as managing relations with tenants. Ben also works with the architects and engineers to coordinate their activities and troubleshoot on issues as they arise.