BY LAUREN ELKIES SCHRAM JANUARY 10, 2017 2:50 PM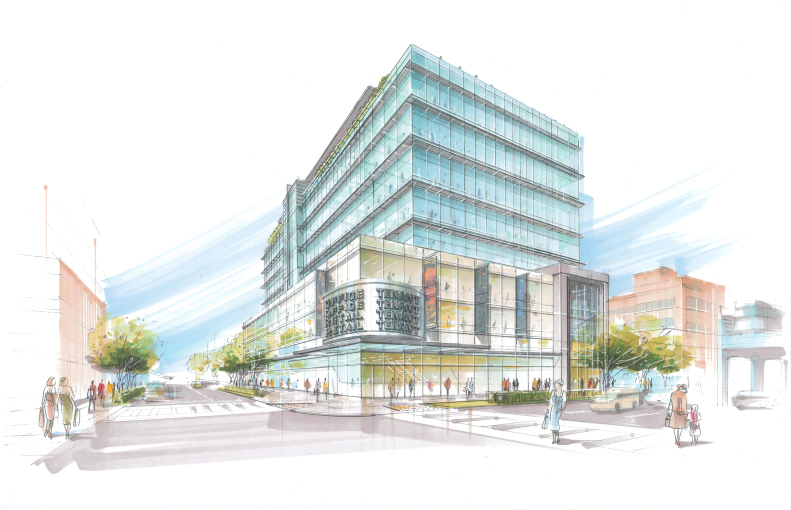 RENDERING OF 38-01 QUEENS BOULEVARD. IMAGE: SBLM ARCHITECTS VIA CURBCUT URBAN PARTNERS
It looks like a 38,000-square-foot movie theater will be part of a medical, nonprofit and community facility property to be developed on Queens Boulevard in Sunnyside, Queens.
Aaron Malinsky, the president and chief executive officer of Curbcut Urban Partners, confirmed to Commercial Observer that the company is negotiating with a chain movie theater to take 38,000 square feet of the 40,000 square feet of retail space on the first and second floors of a planned eight-story, 146,000-square-foot building at 38-01 Queens Boulevard. (The developers are considering an alternative with a penthouse office suite, said Malinsky's son Benjamin Malinsky, the acting project manager, which would bring the project to nine stories.) Malinsky noted that the theater would be a good anchor for the boulevard.
"There's an incredible need for a movie theater," Malinsky said. "There's one in Astoria and after that it's silent." That's because Sunnyside Center Cinemas, which was five blocks away at 42-25 Queens Boulevard, shuttered in January 2015. Independent movie theaters have been struggling to stay open amid competition from big-box theaters, as CO previously reported.
The other 2,000 square feet of retail space will likely be for a small retailer, and the developers may add 8,000 square feet of retail space below grade. Asking retail rents are in the $75-per-square-foot range.
Called QB38 Tower, the $70 million development (including acquisition costs) bordering Long Island City is a joint venture between CurbCut, Platinum Realty Associates and RW Real Estate Group. The team bought the property on Dec. 28, 2015 for $12.1 million, property records indicate. Curbcut is overseeing the development, Platinum is handling the leasing of the retail space and RW is handling financing. The joint venture plans to seek north of $50 million in financing once leases are signed. (Cushman & Wakefield's David Lebenstein and Robair Reichenstein are the leasing agents for the medical and community facility space.)
The one-story building that had been on the site has been demolished and Malinsky said he is waiting for the New York City Department of Buildings to approve its permits. At that point, the developers will perform a six-month environmental cleanup as part of the state's Brownfield Cleanup Program.
SBLM Architects is the architect on the project, which is slated for completion in fourth-quarter 2018, Malinsky said.
The glass- and steel-designed building will be suitable for 21st century medical use.
"An interesting component that's driven my excitement for the project is the ability to put in medical facilities," Malinsky said.
For example, the building will have roof hatches on floors where there are setbacks, allowing for cranes to remove and replace giant magnets for imaging equipment. And it will have elevators big enough to accommodate gurneys.
The building will have underground parking for 98 vehicles, outdoor terraces and a roof deck with views of Long Island City and Manhattan. The site is a couple of blocks away from the 40th Street–Lowery Street stop on the No. 7 train.

To view full article on Commercial Observer click here.